How much will college cost for you?
Find out your financial aid options now!
The cost of college is more than a flat tuition rate – college students need books, food, housing and other necessities. But how can you get an accurate estimate of how much college will cost you?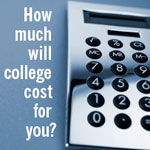 Once you have calculated the costs, contact the Ole Miss Financial Aid Office at 800-891-4596 or finaid@olemiss.edu to talk to a counselor about your financial aid opportunities, or visit our website at finaid.olemiss.edu.