How much will college cost for you?
Find out your financial aid options now!
The cost of college is more than a flat tuition rate – college students need books, food, housing and other necessities. But how can you get an accurate estimate of how much college will cost you?
The University of Mississippi wants to help you not only determine your costs but also explore options to make financing college easier. More than 87 percent of our freshmen receive some form of financial aid.
Ole Miss is consistently ranked by Forbes magazine as a "Best Buy" college for its quality of education combined with affordable tuition.  Find out what more than 20,000 students already have discovered – there is a place for you at Ole Miss, and we want to help you get here.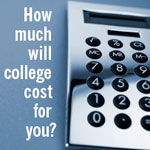 To get an estimate of the cost of your freshman year in college including financial aid, view our online calculator.
Once you have calculated the costs, contact the Ole Miss Financial Aid Office at 800-891-4596 or finaid@olemiss.edu to talk to a counselor about your financial aid opportunities, or visit our website at finaid.olemiss.edu.