Expected Family Contribution
You may complete the Adjustment to Expected Family Contribution professional judgment request if you, your spouse's (if married), or your parents' (for dependent students) financial, marital, or family situation has changed or differs significantly from the information you originally provided on your Free Application for Federal Student Aid (FAFSA).
Any adjustments to your Expected Family Contribution (EFC) may assist you in receiving increased eligibility for need-based federal financial aid (such as Federal Pell Grant, Work-Study, Direct Subsidized Loan, the Ole Miss Opportunity Grant, or the Red & Blue Scholarship).
Please know that documentation MUST be provided in order to process your request.
To submit a request, please use our new electronic system, Financial Aid Student Forms.
You will create an account if this has not already been done.
Choose "Request PJ" under Appeals. Make sure to select the correct Aid Year! See the sample below.
You will be able to upload photos of your documents.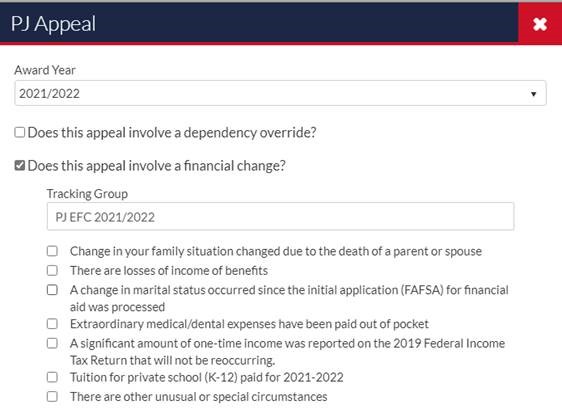 Please click the link below for further instuctions on how to access the system: